Author: Jesikah Sundin
Narrator: Sunil Patel
Length: 12 hours 30 minutes
Publisher: Forest Tales Publishing
Released: Dec. 11, 2017
Genre: Science Fiction


She's from the past, locked inside a world within a world. He's from the future, haunted by her death. A chilling secret binds their lives together.

A sensible young nobleman and his sister live in an experimental medieval village. Sealed inside this biodome since infancy, Leaf and Willow have been groomed by The Code to build a sustainable world, one devoid of Outsider interference. One that believes death will give way to life.

All is ideal until their father bequeaths a family secret with his dying breath, placing an invisible crown of power on Leaf's head. A death Leaf believes is the result of murder. Now everyone in their quiet town is suspect. Risking banishment, the siblings search for clues, leading them to

Fillion Nichols, an Outsider with a shocking connection to their family. Their encounter launches Fillion into a psychological battle with his turbulent past as he rushes to decode the many dangerous secrets that bind them together – a necessity if they're all to survive.

The Middle Ages clashes with the near future in an unforgettable quest for truth, unfolding a story rich in mystery, betrayal, and love.

Are you ready to discover what is real?

For fans of medieval fantasy, fairy tales, anime, eco-pagan science fiction, dystopian romance, and murder mysteries.

The Biodome Chronicles is sure to keep you on the edge of your seat!

Rerecorded and second audio edition released in March 2018.






Jesikah Sundin is a multi-award winning Ecopunk SciFi (eco / pagan scifi) and Forest Fantasy (faerie tale / historical fantasy) writer mom of three nerdlets and devoted wife to a gamer geek. In addition to her family, she shares her home in Monroe, Washington with a red-footed tortoise and a collection of seatbelt purses. She is addicted to coffee, laughing, and Dr. Martens shoes … Oh! And the forest is her happy place.

My name is Sunny Patel and I am a professional British male Voice-Over artist. I was born and bred in London, UK, and woke up with a deep, rumbling voice when I neared adulthood. As a result I have pursued the lifestyle of a Voice Actor / Voice-over artist, not wanting my unique voice to go to waste. I have recorded for multinational companies like Herbal Life, and organisations like The Billy Graham Evangelist Association. I am also narrating a critically acclaimed, award-winning trilogy book series called The Biodome Chroncles by Jesikah Sundin. I have already narrated the first book in the series – Legacy: The Biodome Chronicles – and the audiobook is currently on sale on Amazon and Audible. I can also do voice-overs in other languages, which includes Hindi and Gujarati.
I have been voice trained by coach and mentor, Gary Terrza (https://www.vomasterclass.com), a successful and and well-known voice actor who has been doing his craft for over 25 years.

I received this audiobook as part of my participation in a blog tour with Audiobookworm Promotions. The tour is being sponsored by Jesikah Sundin. The gifting of this audiobook did not affect my opinion of it.

Fillion Nichols
Fillion Nichols is a hacker in the Anime Tech Movement's computer underground, even though he is part of the Corporate Elite. At age 17, he is fluent in Japanese, can hack most Smart devices, websites (including government sites), and holographic computer technology. He also writes encryption software algorithms, same as his life-long best friend, Mack. Fillion works the communications night shift at New Eden Enterprises for New Eden Biospherics & Research, the companies responsible for the experiment at New Eden Township.
At age 20, he'll come into trust majority of a large legal Legacy, an inheritance he resents. But, as he states, it never matters what he wants. Ever. Fillion sees himself no different than a drone, something programmable. Something his father owns to manipulate and use at will. A fate he fears he'll never escape.
His sister Lynden is 11 months younger than him. The media scrutinizes his every move. When he had attended Academy, he was bullied regularly. For this reason, Mack and Lynden are the only two people Fillion trusts. He is known for his quick wit and sarcastic humor, analytical thinking, rambling thoughts, deep emotions and convictions, guitar playing, and his fondness for whiskey and cigarettes.
Willow Oak Watson
Willow Oak Watson, lovingly referred to as Oaklee by her father or the Daughter of Earth by the community, is nearly 16 years old when the story opens. She was born inside New Eden Township, much the same as others from the second generation. At age 8, she apprenticed with Mistress Katie, the head village spinner and weaver, and became a master spinner and seamstress at age 14.
Her fingers prefer to stay busy, even if to twirl strands of hair when her hands are not otherwise occupied. Quite often, she perches high above her community in the branches of her beloved willow oak tree, humming a merry tune while pondering the world around her. When grieved by offense, she feels the injustice whipping inside of her with gale force winds, earning her the family nickname Hurricane Willow.
Her father, Joel Watson, was the Earth Element, one of four head Nobility positions within New Eden Township. Her mother, Claire Johnston, died from childbed fever when she was 8 years old. Willow has an older brother named Leaf (age 19) and a younger sister named Laurel (age 8).
Willow is best known for her atmospheric personality, poetic tendencies, quick wit, deep and thoughtful emotions, and her connection to nature.
Leaf Watson
Leaf Watson, titled the Son of Earth, was the first child born within the walls of New Eden Township. He is the eldest child in the Earth Element house at age 19 and among the oldest members of the second generation. Since a small boy, he has found great pleasure in watching living things grow and flourish. Unlike most from Nobility, he was pushed through a rigorous education, which included additional studies under the tutelage of the village Barrister.
Since age 15, Leaf has acted as First Representative for his father, Joel Watson, who was a head Noble inside New Eden Township. But an unthinkable situation changes everything. An invisible crown of power is bequeathed to Leaf as his father takes his final breaths. This family secret propels Leaf into a position that not only threatens his home but also his way of life. To Leaf, each day seems to unearth new secrets and present new challenges, an overwhelming situation, especially as he is now the legal guardian for his sisters, Willow Oak (age 15) and Laurel (age 8).
Leaf is known for his kind, steadfast, and astute personality, as well as his honorable and gentlemanly demeanor. He is reserved and dutiful, sometimes to the point of self-sacrifice. Although a peace-maker by nature, he would be willing to wage war in order to protect his family.
Coal Hansen
Coal Hansen, also known as the Son of Fire, is age 16 when LEGACY begins. At age 8, he began an apprenticeship under his father, becoming a full-fledged blacksmith at age 14. With his light blond hair and tanned skin from standing before The Forge, he earned the nickname Golden Boy by the community. Moulding metal to his artistic whim is one of his favorite ways to spend time. Although, to Coal, nothing is as adventurous or enjoyable as spending time with Willow Oak Watson.
His father, Connor Hansen, is the Fire Element head Noble and runs The Forge as the village blacksmith. His mother, Cami Hansen, died during childbirth right before he was born. His father remarried when Coal was age 4 to Brianna Williamson, the village midwife. He has an older twin sister named Ember, a half-sister named Corona (age 7), and a half-brother named Blaze (age 4).
Coal is known for his impetuous nature, adventure-seeking and trouble-making antics, charming—and at times, flirtatious—personality, and his thoughtfulness. He is fiercely protective and would go to any lengths to ensure the safety and happiness of those he loves, even if his actions brand him as dishonorable.
Ember Hansen
Ember Hansen, also known as the Daughter of Fire, is age 16 when LEGACY begins, and older twin sister to Coal. She is the First Representative for her father, Connor Hansen, the Fire Element head Noble. Rather than begin an apprenticeship like most from the second generation, she chose to assist her step-mother with rearing her half-siblings, Corona (age 7) and Blaze (age 4), when they were little.
When her half-siblings began their studies in the Great Hall, Ember joined the milk maids in the Mediterranean livestock dome in caring for the goats. Additionally, she assists her father with various tasks as needed.
She is known for her soft yet strong personality, nurturing tendencies, intuitive insight, and natural elegance. Quite often she experiences a hunch and, according to Ember, her discernment is rarely wrong. Her strength is quiet and unassuming, unless someone she loves is threatened, which promptly kindles her bold and fiery side.
Lynden Nichols
Lynden Nichols is Fillion's younger sister by 11 months. For the one month they are the same age each year, Lynden humorously declares a time of Armistice and Fillion must resist his "Dictator Mode." At age 16, she still attends Academy–brick and mortal schools for the Corporate Elite–unlike Fillion and Mack who graduated two years prior.
She wishes to belong to the Anime Tech Movement in order to know and experience physical community and to feel like she has her own place in the world. Wanting to prove she was good enough separate from her brother's fame, she joins forces with Pinkie, a member of the Cyber Call Girl circle of the underground, rather than ask Fillion for his help. This connection pulls Lynden into a darker world than she imagined, one that quickly takes over her life.
Lynden is known for her playful and teasing tendencies, childish antics, love of surprises, and inquisitive nature. Although highly intelligent, she holds back for fear of disapproval. When the book series begins, she has already lost the lighter part of herself to the computer underground.
Mack Ferguson
Mackenzie Patton Campbell Ferguson III, also known as Mack, is Fillion's best friend since preschool. At age 18, he is the only child of a Smart Tech Baron, heir to TalBOT Industries, where he works alongside his father, and one of the Elite kids from the Anime Generation.
Just like Fillion, he is fluent in Japanese, can hack most–if not all–Smart devices, websites (including government sites), and holographic computer technology. He also writes encryption software algorithms. At age 15 he joined the computer underground's Anime Tech Movement, becoming an integral part of the hacking community. Often, he represents his father when negotiating with the underground's Open Source community for projects or to recruit new hires for TalBOT Industires.
Mack is best known for his practical jokes, lighthearted personality, sarcastic humor, and his fondness for all things girls. Underneath the humor and playfulness, though, is a serious and compassionate nature, one he only reveals to specific people. And, he is fiercely loyal to Fillion and Lynden, whom he considers his real family.
Skylar Kane
Skylar Kane, titled the Son of Wind, is best friends with Leaf Watson, a man he also boasts a brother's bond with. At age 18, Skylar is the First Representative for his father, Timothy Kane, who is the Wind Element head Noble. His mother, Emily Kane, is the Educational Governess for all of the children in New Eden Township, holding classes three days a week inside the Great Hall.
During his years of education, Skylar enjoyed competing against Leaf. But, he became disappointed when his father did not push for additional studies under the village Barrister, allowing Skylar to continue his friendly rivalry with the Son of Earth. Skylar assists his father in monitoring the internal atmosphere, running scientific experiments to test for any imbalances in the air. His job covers every biodome and, therefore, he tends to naturally be more privy to details within the community. He remains honorable, despite the overheard gossip and private details, guarding all the information he "hears on the wind."
He has two sisters: Windy (age 12) and Gale (age 9). Skylar is known for his stoic charm, chivalry, natural confidence, and intelligence. With his refined bearing and behavior, he is considered the model gentlemen within the second generation.
Rain Daniels
Rain Daniels, age 16, also known as the Daughter of Water, is part of the second generation inside New Eden Township. She is the second-born daughter of the Water Element Noble house, but acts as First Representative for her mother, Norah Daniels. Her elder sister, Mist (age 18), married a village boy and began a family, relinquishing the esteemed position to Rain. Her father, Alex Daniels, is the village cooper and makes barrels for storage, food, and beverage, as well as all the compost, lavatory, and watering buckets.
In addition to her duties as First Representative, she assists her mother in performing various scientific experiments to test soil moisture and water pH. Mostly, however, her time is spent caring for her mother who is dying from cancer. Being a caretaker consumes many hours of her day, and she misses her friends, especially Willow and Ember. A part of her envies her older sister for making a home with another and starting her own family.
In addition to her older sister, Mist, Rain has two younger brothers, Canyon (age 14) and Lake (age 6). She is known for her analytical mind, conversational and debating skills, a playful sense of humor, and her refinement.
Pinkie
Not very much is known about the young woman whom everyone in the computer underground calls Pinkie. Although, it is common for Cyber Call Girls (CCG) in the Anime Tech Movement to be ageless and to reject their former life, including their birth name.
When the series begins, Fillion is wary of her, especially since Pinkie is the last person he would ever expect Lynden to befriend. Soon, Fillion discovers that Pinkie has been grooming Lynden to become a Ticket Girl, a gateway profession to becoming a CCG. He is livid and does what he can to warn Lynden. But his sister has formed a strong attachment to Pinkie, appearing to trust her over him.
Pinkie is best known for her vintage, pin-up girl looks, trademark soft pink hair, and sexual games and manipulations, especially toward Fillion Nichols.

LEGACY- BOOK 1
Aug. 20th:
Aug. 21st:
Aug. 22nd:
Aug. 23rd:
Aug. 24th:
Valerie Ullmer | Romance AuthorViviana MacKade
Aug. 25th:
Aug. 26th:
ELEMENTS- BOOK 2
Aug. 27th:
Aug. 28th:
Aug. 29th:
Aug. 30th:
Aug. 31st:
Dab of Darkness Audiobook Reviews
Sep. 1st:
Sep. 2nd: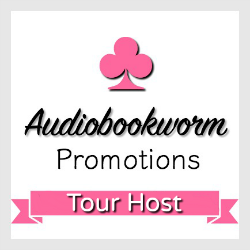 ➜Sign up as a host here