Authors: Kate Douglas Wiggin
Narrator: Ann Richardson
Length: 8 hours and 11 minutes
Publisher: Post Hypnotic Press Inc.
Released: Dec. 8, 2017
Genre: Classics


Rebecca of Sunnybrook Farm has delighted readers for over 100 years. Published in 1903, when girls were inevitably depicted as pretty, gentle and proper, Rebecca Rowena Randall burst onto the scene of children's literature. Sent to live with her prim and proper Aunt Miranda, who is expecting her much more demure sister, Rebecca is a "bird of a very different feather". She has "a small, plain face illuminated by a pair of eyes carrying such messages, such suggestions, such hints of sleeping power and insight, that one never tired of looking into their shining depths…." To her Aunt Miranda's continual dismay, Rebecca is exuberant, irrepressible, and spirited – not at all "proper" or "demure". She wins over her aunt soon enough, and the whole town, and thousands of readers and listeners everywhere.

In 1904, author Jack London wrote Kate Douglas Wiggin: "May I thank you for Rebecca?…. I would have quested the wide world over to make her mine, only I was born too long ago and she was born but yesterday…. Why could she not have been my daughter? Why couldn't it have been I who bought the three hundred cakes of soap? Why, O, why?" And Mark Twain called Rebecca of Sunnybrook Farm "beautiful and warm and satisfying". This recording, narrated by Ann Richardson, whose sweet voice has a facility for accents and character voices, is a satisfying listening experience you'll want to revisit. Upcoming from Post Hypnotic Press is a new annotated print/eBook edition of this book, with illustrations from the original publication and a new introduction, as well as a work-book for children.



Kate Douglas Wiggin (September 28, 1856 – August 24, 1923) was an American educator and author of children's stories, most notably the classic children's novel Rebecca of Sunnybrook Farm. She started the Silver Street Free Kindergarten, the very first free kindergarten, in San Francisco in 1878. She also established a training school for kindergarten teachers with her sister during the 1880s. Kate Wiggin devoted her adult life to the welfare of children in an era when children were commonly thought of as cheap labor.
Wiggin was born in Philadelphia, the daughter of lawyer Robert N. Smith. Her early childhood was coloured by the American Civil War and her father's death when Kate and her sister Nora were still quite young. Their widowed mother moved them from Philadelphia to Portland, Maine, then, three years later, she remarried and they moved to the little village of Hollis. Kate and her sister, and a new baby brother, Philip, matured in rural surroundings.
From a literary standpoint, the most interesting event of her childhood was her chance meeting with the novelist Charles Dickens. Her mother and another relative had gone to hear Dickens read in Portland, but Wiggin, only 11 at the time, was thought to be too young to attend. However, on the following day, she found herself on the same train as Dickens. Wiggin's engaged Dickens in conversation for the length of the journey, which she later detailed in a short memoir, A Child's Journey with Dickens (1912).

Ann Richardson has been narrating for major publishers as well as independently published authors since 2008, happily giving voice to classics such as "Rebecca of Sunnybrook Farm" (Kate Douglas Wiggin), "Greenwillow" (B.J. Chute), and Zane Grey's "Riders of the Purple Sage". Her narrations have been awarded AudioFile Magazine's Earphones Awards, as well as having been finalists in the Voice Arts Awards in 2016 and 2017. In her spare time Ann is a volunteer narrator for Learning Ally (formerly Recording For the Blind and Dyslexic), and speaks to author groups and at writers' conferences about the process of making an audiobook.

I received this audiobook as part of my participation in a blog tour with Audiobookworm Promotions. The tour is being sponsored by Post Hypnotic Press. The gifting of this audiobook did not affect my opinion of it.

How did you wind up narrating audiobooks? Was it always your goal or was it something you stumbled into by chance?

I studied broadcast journalism in college, but life took me in other directions. When my job evaporated in 2008, I decided to revisit my passions, and found I didn't desire to be the next Diane Sawyer, but was still interested in some form of voiceover. My mentor suggested volunteering for Recording For the Blind and Dyslexic (now known as Learning Ally), and I was smitten.

Did you find it difficult to "break into" audiobook narration? What skill/tool helped you the most when getting started?

It wasn't too difficult for me to break into narration because I am a self-starter and motivated. It helped that the industry was on the cusp of a huge growth explosion. Tenacity and visualization were my biggest assets when I was starting out. I spent endless hours researching online, studying with coaches, and learning about the craft and the industry. Once I felt confident I could "make it", I kept positive thoughts, meditated on how I wanted things to transpire, and tried to help others learn the ropes as well. I still do these things.

Are you an audiobook listener? What about the audiobook format appeals to you?

I am an avid audiobook fan and listen every chance I get (usually when I go running). I am unable to stop life and sit and read a book, so audio works perfectly for me. I try to listen to Audie award winning audiobooks, as well as my colleagues, and in addition to the story, I learn narration technique from each narrator.

Is there a particular genre you feel unsuited for? Have you ever declined a project because you didn't think you were right for it?

I delight in non-fiction narration. To me, it's intensely gratifying to communicate the author's message. I also love a well-written literary fiction story with surprise twists. Once I was offered an inspirational memoir written by a man, and as much as I wanted to work for the major publisher who cast me for the project, I had to turn it down because it would not have worked to hear a man's words narrated by my feminine voice. It was a horrible feeling to say no, but in the long run it didn't damage my career, and the publisher thanked me for the integrity.

What about this title compelled you to audition as a narrator?

I sometimes think I was born a couple of generations too late. I spent much of my childhood on a farm in Nebraska, doing lots of chores and riding my horse all over the countryside, playing cowboys and Indians with my sister. I love Westerns and old, classic stories such as "Rebecca of Sunnybrook Farm". The rich descriptions of life in a different era, much simpler, much different, and to me, much more idyllic. I strongly associate with pioneers, strong women, and children who try their best to be obedient, but cannot suppress their effervescent zest for life and adventure.

Have there been any characters that you really connected with?

I connected with Rebecca instantly. I'd never read this classic story and when I did, I fell in love with her story and found myself wishing I new what happened to her after she grew up. I even toyed with the idea of writing my own version of what I thought she might have done with her life. She always gave her best effort and was thoughtful whenever she was in a situation to represent her family, her aunts, or her classmates. What a good heart she had!

How does audiobook narration differ from other types of voiceover work you've done?

I tried commercial voiceover for a very brief time, but found it very distasteful to generate insane enthusiasm for products I'd never used. It felt disingenuous and I'm sure it came through in my voice. Audiobooks are different because the narrator is living in the story, and portraying events and how people interact and react. It's more authentic, somehow.

What's next for you?

Audiobook narration continues to be my passion, but I also have a strong interest in narrating documentaries. I've begun taking coaching for that, and hope to begin building my body of work in that area.

Bonus question: Any funny anecdotes from inside the recording studio?

I have had many interesting things happen in my booth, including once when my husband played a joke on my and began messing with my cursor from outside the booth (I record to a laptop that sits outside the booth, using a remote mouse and monitor inside the booth). I couldn't figure out what the heck was going on and grew quite concerned (read FRANTIC) that I'd gotten some type of malware. Another time I was recording, it was the middle of the afternoon, no one was home but me, and I hear the toilet flush in the bathroom right next to my booth. I froze. I listened hard for several minutes for other sounds of someone being in the house with me, feeling the hair rise on the back of my neck and goosebumps on my arms. I crept downstairs to check out the house, and found a notice on the front door that the utilities dept was working on the water lines in our neighborhood and it might cause changes in water pressure. I decided this was the cause of the phantom flush.

Rebecca of Sunnybrook Farm Giveaway: 3-Month Audible Membership



Aug. 26th:
Aug. 27th:
Aug. 28th:
Aug. 29th:
Aug. 30th:
Aug. 31st:
Sep. 1st: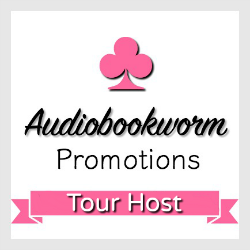 ➜Sign up as a host here